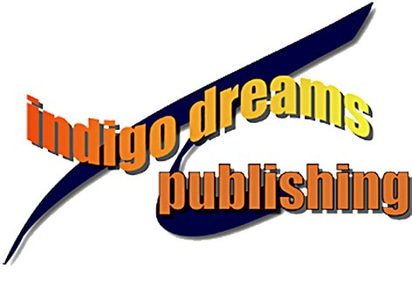 An award-winning debut collaborative work
Forest, moor or less
by Dawn Bauling & Ronnie Goodyer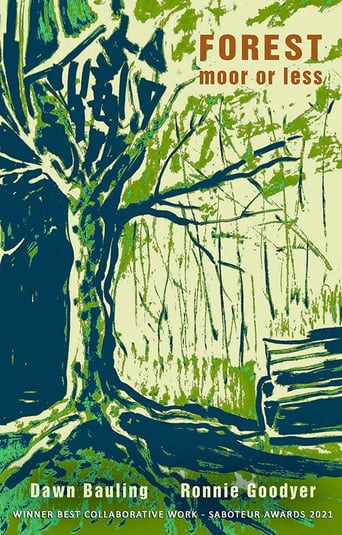 Life brought us together later than we would have liked but it brought us to Cookworthy Forest at just the right time. It sits between the coast at Bude and the high moor of Dartmoor, 1,600 acres of managed Forestry England forest: conifers, oak and beech in beautiful harmony. It rests at the bottom of our garden like an ever-present counsellor and playmate; it has provided us with a place to wander in, to find consolation, to laugh and to listen. We have walked there with those closest to us, taken them by hand or in our heads. We have watched it, in all its essential, multi-coloured hues, letting it teach us things about ourselves, what matters, what doesn't, and giving us insight into the other places we have wandered in.
This joint collection is not just our response to that invitation, it is a thank you to those who have encouraged the pathways and journeyings, letting us find a rare and wonderful contentment.
Winner of Saboteur Best Collaborative Work 2021
Now in its 3rd reprint.
Together we reach outwards and onwards, each gleaming life intertwined in the endless and eternal ceremony of being.'
~ Path, Louisa Thomsen Brits
'A great way to start the weekend.'
Sir Elton John
'My weekend reading? This gem of a collection from Dawn & Ronnie...'
Gyles Brandreth
'I found you both between these pages is a beautiful way.'
Jim Bennett, Poetry Kit
'A joyous read'
Literature Works
'Vivid landscapes and seasonal changes are explored in sensual, imagistic language'
Ink Sweat & Tears
'Our senses fed every step of the way' Anna Saunders, Cheltenham Poetry Festival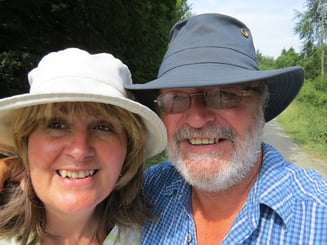 Dawn Bauling is a graduate in both English and Library Science. She has won several poetry awards, been widely published in the poetry press and has two published collections: 'Loud Voices in the Quiet Child' (2008) and 'Shippen' (2014). She is co-director of Indigo Dreams, is editor of Sarasvati and The Dawntreader magazines and with Ronnie was awarded the Ted Slade Award for Services to Poetry. She also works as Media Officer for the NHS .
Ronnie Goodyer is co-director of Indigo Dreams with six collections to his name. He ran his own celebrity management company where he handled projects for Uri Geller, Ian Botham and DJ Mike Read among others. He was on the BBC2 Judging Panel for their 'Off By Heart' poetry competition. Ronnie is editor of Reach Poetry monthly magazine, now in its 22nd year. Ronnie is also Poet-in-Residence for the League Against Cruel Sports.